Yamaha launches the Ténéré Spirit Experience for 2023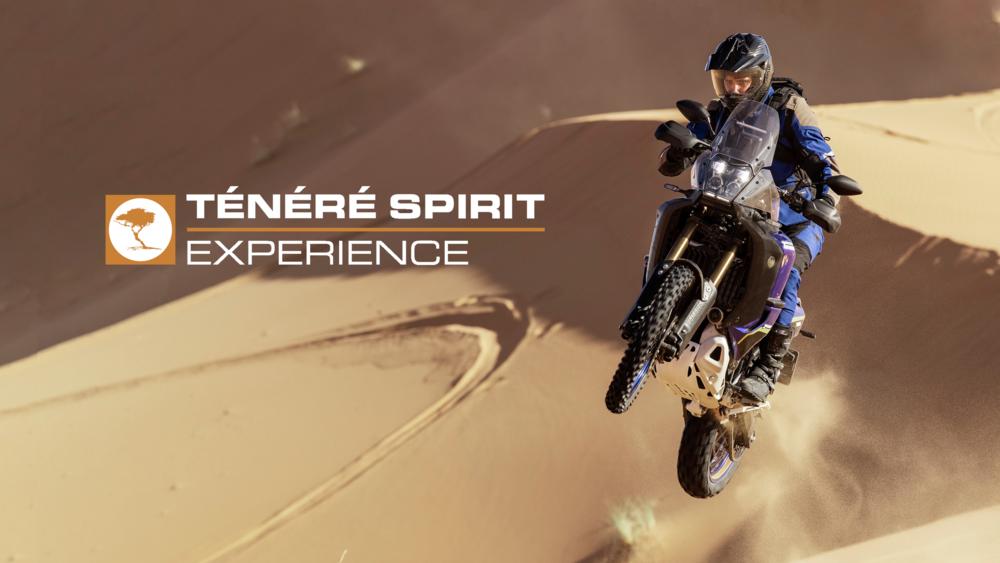 Yamaha launches the Ténéré Spirit Experience for 2023
The ultimate Rally Raid Adventure for every Ténéré owner!
Launched in 2019, the Yamaha Ténéré 700 has opened up an exciting new world of freedom and adventure for over 40,000 European riders. With its high torque CP2 engine, agile handling and serious long range capabilities over virtually any terrain, the Ténéré 700 is the most versatile motorcycle ever produced by Yamaha.
Built with the same rugged DNA as the original Yamaha XT bikes that won the very first Dakar Rally – and went on to challenge for the podium in the world's toughest event for over 40 years – the Ténéré unleashes a rider's spirit of adventure and enables everyone to discover what is beyond the next horizon.
As well as being the definitive adventure bike for riders looking for a lightweight round the world machine, the Ténéré has proved its outstanding Rally performance in 2022 with Ténéré World Raid Team's legendary rider Alessandro Botturi winning the Tunisia Desert Challenge. Teammate Pol Tarrès made off-road history by taking his Yamaha Ténéré 700 further than any other 2-cylinder machine at the Erzberg Rodeo.
By bringing together the worlds of Touring, Rally and Enduro like no other machine, the Ténéré is undoubtedly the most outstanding Adventure model ever built by Yamaha. Now we stand before a new horizon, bringing customers closer to the true meaning of the word Ténéré and coming within a very short reach of actual Rally Racing. Yamaha has created a whole new immersive Ténéré Spirit Experience that opens up even more possibilities for Ténéré Riders with the same hunger for more adventure and our dedication to Riders for Health.
New Ténéré Spirit Experience for 2023
Yamaha is totally committed to ensuring that every rider is given the chance to enjoy their Ténéré to the full in a diverse range of riding situations. For 2023 Yamaha is introducing the exclusive new Ténéré Spirit Experience in which Ténéré owners can join some of the world's most famous Rally Raid events, with the official Yamaha World Raid Team.
A total of 20 Yamaha customers and their motorcycles will be transported to their chosen Rally Raid where they will follow both the actual route and a parallel route to the race competitors and live alongside the race team in the bivouac each evening. For many riders this will be a once in a lifetime experience that will live in their memories forever, and for others it may ignite a desire to compete in Rally Raid in the future.
Run by former Enduro champion and Dakar Racing Team manager Marc Bourgeois through his company MBSM on behalf of Yamaha, the Ténéré Spirit Experience is open to Yamaha Ténéré owners who want to take their adventure riding to another level and get a real taste of Rally Raid but without the intense pressure of competition while also being able to experience the beauty the landscapes provide.
Total package from start to finish
Ténéré Spirit Experience is a total 360 degrees package that is designed to cover every aspect of the preparation, flights, bike transportation and every aspect of participation in the customer's chosen Rally Raid. Before the event each rider can choose to attend a Ténéré Experience Centre* if they want to get tuition on their riding or navigation skills, and MBSM will take care of everything else from start to finish – including daily pre-event briefings, logistics, technical assistance, GPS tracker fitment, breakfast, dinner and camping.
Suitable for standard Ténéré models
Customers will be riding their own machine at the Ténéré Spirit Experience events, but they don't need to worry about making too many modifications. MBSM technicians will equip every bike with special wheels and tyres as well as navigation equipment prior to the ride – and in some cases the participant's Ténéré will also be required to be fitted with an extra fuel tank for specific events.
Join the Ténéré World Raid Team at four legendary events for 2023
The team of Marc Bourgois (MBSM) will take charge of both the Racing organisation and the Customer program under the umbrella of the Ténéré World Raid Team. Allowing for seamless integration of true racing spirit and customer experience.
The 2023 Ténéré Spirit Experience includes four of the most famous Rally Raid events, starting with the Morocco Desert Challenge in April, followed by the Hellas Rally in May. After the summer break the TSE and TWRT continue with Transanatolia in September and conclude with the Tunisia Desert Challenge in October.
Ténéré Spirit Experience riders will be sharing the bivouac with Ténéré World Raid Team riders Alessandro Botturi and Pol Tarrès who will be competing at selected events – and there will also be extra top level guest riders joining various races.
*MBSM Ténéré Centres in France and Morocco, plus the YORE Ténéré Experience in Wales
With a number of MBSM Ténéré Centre locations in France and Morocco, plus the YORE Ténéré Experience in Wales, riders can take additional off-road training as well as develop their navigation skills. MBSM will have two Ténéré Centres located in France and Morocco. Other countries in Europe also have similar structures, contact your local distributors for more info.
For more information about the Ténéré Spirit Experience and the Ténéré Experience Centres, please visit the MBSM website or the YORE website :
or https://www.yamaha-offroad-experience.co.uk/tenere-experience-course/